Submitted by

Walthill

on Mon, 11/21/2022 - 8:26am
Be Strong, Work Hard, No Worries: Walthill Business Incubator is Growing Success on the Omaha Reservation with Support from USDA Rural Development
Name
Meredith Mingledorff
It started several years ago with a thoughtful and emotional recognition that the Omaha people needed to strengthen their economy. Village Board of Walthill Chair Mike Grant recognized the talent of his native people, and wanted to support their entrepreneurial spirits, which he knew would benefit them and the tribe. 
Grant brainstormed business solutions for the Village of Walthill with partners, consultants, and an economic development coordinator. The team looked at available real estate and saw an opportunity in a retail "strip mall" style space located at 307 Main Street, Walthill, Nebraska. The Walthill Business Incubator was born.
"I don't really like the word incubator," Grant jokingly admits. "But that's what it is, it's a supportive environment for business growth, and we have many tribal members who are interested in starting their own businesses. It is an exciting time for Walthill and the tribe." 
Grant says he thinks the Omaha word "washkon" is a better fit for what the incubator is. 
"It roughly means, 'be strong, work hard, no worries,'" explains Grant. 
Grant says the endeavor is off to a great start approximately a year after it's inception. There are three businesses in the strip mall now, a coffee shop called Pop A Joe's, and two clothing consignments shops, Effortless and Mamma T's.  Grant says Pop A Joe's is a great place to hang out and socialize. He likens it to Central Perk on the television show "Friends." 
"It's a smaller version of course, but that's the kind of vibe it has. It isn't the kind of place where everyone retreats to a private table and hides away with his or her coffee. It's a very social environment with a comfy couch, and comfy chairs," says Grant. "I think it's a great example for the next generation to see what is possible here on the reservation. This is a thriving business, and it's really just the start. We are going to continue to improve not only this storefront, but we're going to add more businesses to Walthill." 
Pop A Joe's is a passion project for Alissa Harlan and her husband Jarom. The shop is affectionately named after his late father, who everyone called Popa Joe.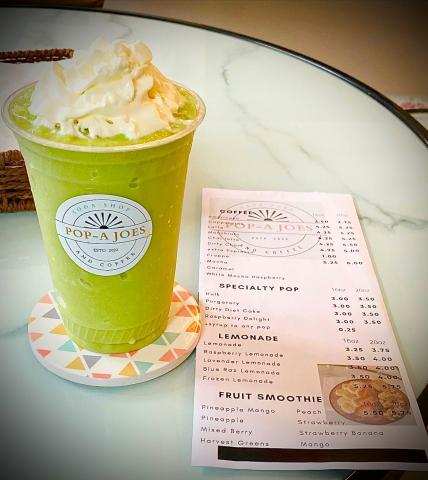 "This is something new for Walthill," said Alissa. "We want to offer a cozy, uplifting environment. The shop is frequented by many of the local high school students, which is a blessing for all of us." 
Alissa wants to do more marketing and plans on continuing to grow the business.
Grant's pride is palpable when he speaks of recent improvements in his community. 
"We have a new library, a new fire department, the Picotte Center, and a skate park," Grant explains. 
He credits Kevin Connot, economic development specialist for the Village of Walthill, with connecting the tribe with USDA Rural Development, who funded the Walthill Incubator with Rural Business Development Grant Native American Funds. To date, the incubator has received two grants, one for $351,516.00 and another for $254,200.00. Both Grant and Business Programs Specialist Deborah Drbal, USDA Rural Development, hope to continue investing in the tribal nation. 
"We have earmarked funds especially, for tribal communities, and I'm glad the Omaha Nation is using these resources," said Drbal. 
According to USDA studies, tribal communities have traditionally been underserved, or not taking full advantage of the funds available to them. 
"USDA RD launched an equity study this year to gain better understanding of what barriers to our programs may be preventing tribes from applying for funds," said Joan Scheel, director, Nebraska Business Programs. "In Nebraska, we've typically allocated more tribal funds than most other states, and we're proud of that fact. We want to continue making meaningful investments in our tribal communities, and I invite tribes to reach out to us so we can discuss the funds available to them and help them identify qualifying opportunities and projects. The application window for these funds is open now and closes February 27, 2023, for our next funding cycle. Our website is www.rd.usda.gov/ne, and our main phone line is 402-437-5551." 
 The Walthill Incubator is intended to assist four businesses at a time. Grant is expecting to help more than that. He said the list of native entrepreneurs who've expressed interest numbers nearly 11 already, and he wants to help them all. 
The commercial infrastructure, counseling, and partnership with Nebraska Indian Community College, are projected to create 37 full-time jobs in the next three years. This Rural Development investment will continue to enhance the incubator, and Grant expects it will become a positive focal point on the Omaha Reservation, a source of pride for all its citizens. 
Grant expects tourism and visits to the reservation to continue to increase, which will support the tribe's economy and businesses. 
"Next summer we expect the Picotte Center's renovation's to be complete, and we're discussing holding an annual celebration each June to honor Dr. Susan," said Grant. "My vision for that is a large annual celebration we can hold every year, welcoming visitors, educating others on our culture, and supporting our local businesses. June is a beautiful time of year to visit the reservation." 
The Omaha Tribe of Nebraska's website is: https://www.omahatribe.com/.
USDA touches the lives of all Americans each day in so many positive ways. In the Biden-Harris Administration, USDA is transforming America's food system with a greater focus on more resilient local and regional food production, fairer markets for all producers, ensuring access to safe, healthy, and nutritious food in all communities, building new markets and streams of income for farmers and producers using climate-smart food and forestry practices, making historic investments in infrastructure and clean-energy capabilities in rural America, and committing to equity across the department by removing systemic barriers and building a workforce more representative of America. To learn more, visit www.usda.gov.
Under the Biden-Harris Administration, Rural Development provides loans and grants to help expand economic opportunities, create jobs, and improve the quality of life for millions of Americans in rural areas. This assistance supports infrastructure improvements, business development, housing, community facilities such as schools, public safety, healthcare, and high-speed internet access in rural, tribal, and high-poverty areas. For more information, visit www.rd.usda.gov. 
If you'd like to subscribe to USDA Rural Development updates, visit our GovDelivery subscriber page.
To learn more about Rural Development in Nebraska, visit www.rd.usda.gov/ne.
USDA is an equal opportunity provider, lender, and employer.